The Fitness Club with Everything You Need to Succeed
Is your fitness regimen a hassle? Do you hit a yoga studio on Monday, a spin gym on Wednesday, and hope the weather permits a run on Friday? Do you have a hard time finding a spot in class? Are you always rushing to class before you miss what you already paid for? While fitness requires effort and exertion, attending a fitness club should not. If your fitness club or health club isn't meeting your needs, that's because you haven't found the right one! Sweat440 is the fitness club with everything you need under one roof. No more multiple memberships, or overcrowded classes, just pop into our convenient gyms for the total fitness package.
Cardio + Weights– Our Fitness Club Has It All!
Sweat440 not only has extensive cardio and weightlifting equipment, but we also fuse them into powerful compound cardio circuits. This means you get everything you want from your workout, and it only takes half the time. Whether you are a bodybuilder, marathoner, or beginner, our gyms are packed with the latest tools to fuel your fitness.
The #1 Fitness Method– We're HIIT Experts!
At Sweat440, our trainers teach high-intensity interval training (HIIT) in every class. Don't waste time on less effective health club classes like yoga or cycling, when HIIT packs a more powerful punch in just 40 minutes. If you want results, stop spinning your wheels at other gyms, and join the gym led by HIIT experts. Our founders are highly sought-after trainers who've devised the perfect method for superior results.
Innovative Technology– We Make Fitness Simple & Fun!
Sweat440's fitness club is guided by innovative tech that simplifies and energizes your routine. At each exercise station, we have screens that display animated demonstrations of each movement, so you're never confused. We have a scheduling app to book classes right from your phone. We even have a selfie station to capture your post-workout glow!
State-of-the-Art Equipment– Superior Efficiency & Versatility!
Our fitness club is filled with the latest equipment to maximize your efforts. Our Ski Ergs, Assault Bikes, Versa Climbers, Sleds, and rowers ensure that you're building muscle while you're burning fat. The intuitive design of our state-of-the-art equipment keeps you in perfect form so you sculpt your physique without injury. And our tools are versatile to accommodate limitations and all fitness levels. Ski Ergs provide a total body workout from a seated or standing position. Assault Bikes work your legs, and unlike other cycles, they also deliver an upper body workout. No matter what your goals and abilities are, Sweat440 is equipped to meet your needs.
Personal Trainers– Maximize Your Potential for Free!
Personal trainers are essential to optimize fitness. They not only push you to achieve more than you thought possible, but they also keep you safe and free from injury. Trainers have the ability to determine your ideal heart rate, exertion level, and capabilities, so you always work your hardest without overdoing it. They also customize a plan for you, rather than sticking you in a class where people of all different fitness levels try to do the same thing. At each Sweat440 health club, trainers are included for FREE in every class! They circulate throughout the class, ensuring your success and safety. You get all the benefits of group fitness, with the tremendous addition of individual attention.
The Perfect Fitness Club Schedule– Never Miss a Class!
Sweat440's classes start every 10 minutes! That means there's always a class to fit your schedule. You never have to pay for classes you miss, or book classes months in advance. Simply book online, or stop by and we'll fit you in within minutes! Our classes pack 4 10-minute stations of 3 sets of 3 exercises into 40 minutes! That's a total body HIIT workout in half the time you would waste at another health club! No matter how busy your day gets, Sweat440 meets your fitness needs in under an hour.
The Health Club Amenities You Need– Get in & Out Fast!
We know you're going to love our health club, but we also know you have other places to be! That's why we include everything you need, like lockers and showers, so you can get on with your day. Whether you're headed to the office, the school carpool, or a first date, you can get a great workout and get ready for what lies ahead. Don't forget to capture your post-workout glow in our selfie station on your way out! You should be proud of making fitness a priority!
No Contracts– Affordable Memberships Options Too!
Sweat440 doesn't make you sign a contract, and we don't make you pay a dime before you work out. Your first class is free! We know you'll want to join us after that first session, so we made membership flexible and accessible for all. Buy one class, or a bundle of classes, and stop whenever you like. There are no hassles to working out at Sweat440- just tons of fun and unbelievable results!
Convenient Locations– Sweat440 Has a Fitness Club Near You!
We understand that half of the hassle of a fitness club is getting yourself there. We make that easy by offering a health club right near where you work, live, and play. With multiple locations in Miami, Miami Beach, Coral Gables, Doral, Austin, and Montréal, we're making it easy to say "yes" to joining a fitness club. Try a free class today and see why Sweat440 is the gym you've been looking for!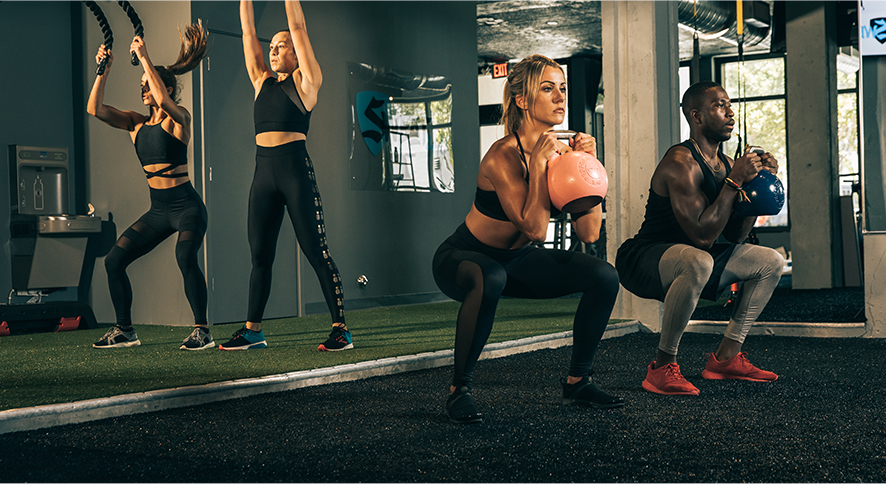 The Best Fitness Club to Join for Total Fitness
Sweat440's Health Club is the Total Package
First class is free
No contracts or fees
Free personal training
#1 HIIT workout
Innovative equipment
Flexible schedule
Plenty of classes
Convenient locations
Showers & locker rooms
Assistive & versatile machines
Find a Sweat440 Fitness Club Near You
Sweat440 Miami Beach
Sweat440 Kendall
Sweat440 Coral Gables
Sweat440 Downtown Doral
Sweat440 Palm Beach
Sweat440 Brickell
Sweat440 Chelsea
Sweat440 FIDI
Sweat440 Austin
Sweat440 Montréal