Top 10 Benefits of HIIT for Mental Health at SWEAT440 Huntsville
1. HIIT for Mental Health: Classes Are Accommodating
One of the top benefits of HIIT for mental health is classes that accommodate you. At SWEAT440 Huntsville, you can book classes in advance, or simply stop by and join in. If you're feeling stressed and need a quick sweat session, you can always get one when you need it at SWEAT440! You're never charged for classes you miss, and you don't have to miss your workout if you're running late. We'll simply fit you into the next class.  
2. HIIT for Mental Health: Programs Are Adaptable
When doing HIIT for mental health, programs that adapt to your needs are ideal. SWEAT440 Hunstville offers contract-free memberships. You can buy as little as one class at a time, or you can buy 10-packs, or unlimited class packages. You are never locked into a contract, so you can quit at any time. It's a stress reliever to belong to an affordable gym that doesn't stretch your budget. In addition, everyone gets a free class at SWEAT440! If you're wondering whether it's right for you, you can try it for free! 
3. HIIT for Mental Health: Equipment Is Superior
Another advantage of HIIT for mental health is equipment that's superior. At SWEAT440, we have innovative screens with animated demonstrations of each exercise. So, there's no apprehension when trying a move. You can observe it first. We added this feature in addition to personalized training for an extra layer of comfort. Our VersaClimbers, Assault Bikes, and SkiErgs combine cardio with resistance to cut workout time in half. You'll burn calories while you build muscle, so you aren't stressed by a lengthy workout. 
4. HIIT for Stress Relief: Environment Is Supportive 
At SWEAT440 Hunstville, our members love doing HIIT for stress relief. One reason this works is that we have a supportive environment. Our members are from all different fitness levels, and we cheer each other on and give high-fives between fitness stations. We're all working toward individual goals. But whether we work out for weight loss, to build muscle, or to feel better, we're in it together. We look out for one another.
5. HIIT for Anxiety: Classes Are Inclusive
A great benefit of HIIT for anxiety and mental health is classes that are inclusive. SWEAT440's HIIT classes involve four stations that include three sets of three different exercises. Each participant works at their own pace, so you won't feel anxious about your athletic abilities. If you don't like, or can't do, a particular exercise, our trainers can provide alternatives. SWEAT440's workouts are equally adaptable for beginners and professional athletes.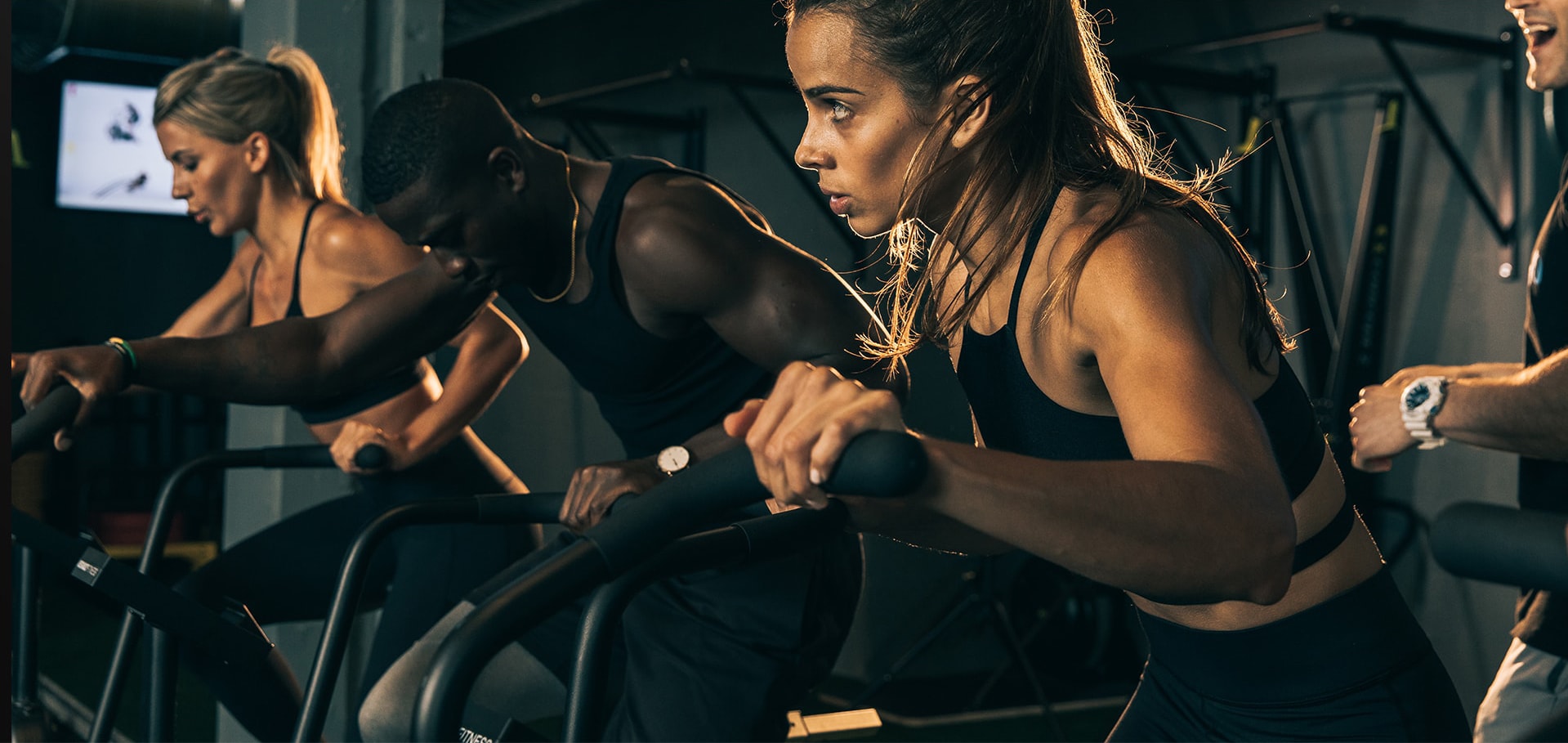 6. HIIT for Depression: Atmosphere Is Uplifting
It's hard to feel down at SWEAT440. Our uplifting music, inspiring trainers, and exciting workouts keep your heart pumping and your mind energized. We're a community of caring people who want everyone to feel their best. Not to mention, we're so excited to be reunited after the long pandemic! Join us to put some pep in your step and feel the benefits of HIIT for depression.
7. HIIT Workout for Weight Loss: Members Are Motivating
Countless studies show that working out together is more effective than going it alone. This is especially true when doing a workout for weight loss. Sometimes weight drops quickly, and sometimes it stalls, so having a team around you will keep you motivated. SWEAT440 changes workouts daily, so you won't hit a plateau. Watch your weight loss accelerate when you work out with us!
8. HIIT Gyms: Affordable Mental Health Workout Programs
While companies like BetterHelp are making mental health counseling more accessible, it's still expensive for many people. Adding a costly gym membership on top of that can increase stress. But exercise is essential to mental health. With SWEAT440, HIIT is one of the most affordable mental health workout programs. Your first class is free, and you can buy as many classes as you want and cancel at any time for free. SWEAT440 is an affordable gym in Hunstville, where many gyms are overpriced.    
9. HIIT Workouts for Stress Management: Fit Your Schedule
Overscheduling is one of life's biggest stressors. Everyone wishes they had more hours in the day, and sometimes things like exercise get neglected. But exercise is one of your best tools to fight stress. Rather than eliminating it, try SWEAT440's HIIT workouts for stress management. SWEAT440 has classes every 10 minutes, so you're #neverlate. If you plan on working out at 6:00 but get stuck in traffic, you can just come to the next class! You're never penalized for being late, and you can always join in when you arrive. 
10. HIIT for Mental Well-Being: The Ultimate Exercise
There is no exercise better than HIIT for mental well-being. In addition to all the ways it reduces stress, it also boosts your self-esteem. You're capable of much more than you think, when it comes to exercise. At SWEAT440 Hunstville, you'll exceed your fitness goals by a mile, and you'll have fun while you do it! Visit SWEAT440 Hunstville for your free class today. We're conveniently located right near The Home Depot.
10 Advantages of HIIT for Mental Health
10 Perks of HIIT at SWEAT440:
Accommodating classes

Adaptable program

Efficient workout

Supportive environment

Inclusive classes

Uplifting atmosphere

Motivating members

Affordable workout

Flexible schedule

Self-esteem boost
10 Ways to Use Workouts for Stress Management:
Try a free class

Invite a friend along

Breathe and stretch well

Hydrate and refuel 

Use positive self-talk

Chart your progress

Play great music on the drive

Celebrate goals you meet

Wear fun workout apparel

Take pix in our selfie station