​

6 Awesome HIIT Workouts to Battle the Bulge and the Boredom
Another day on the treadmill? Ugh. We're bored just thinking about it. But how else will you banish those stubborn 10 (20, 30…) pounds you can't seem to get rid of? Should you just lace up your shoes and plod along on another fruitless run to nowhere? No way! There's a much better path to fitness, and the best part is, it's totally awesome!
High-intensity interval training (HIIT) burns more calories in half the time than traditional cardio like running on a treadmill. Get more fit in half the time? That sounds like a plan! But the best part is, HIIT is also tons of fun! The classes are dynamic, high-energy, and fueled by upbeat music and positivity, so they fly by even faster. Want to battle the bulge, as well as the boredom? Try a HIIT class at Sweat440 today!
Why is High Intensity Interval Training (HIIT) So Awesome?
HIIT is superior for its ability to burn calories while also building muscle. The compound cardio circuits at Sweat440 amplify your strength while increasing your endurance. For example, when you push our sleds, you increase your heart rate as you blast fat and torch calories. But you're simultaneously building strength in your arms, shoulders, glutes, legs, back, and core.
Traditional workouts divide cardio and weightlifting, so it takes twice as long to get fit. But Sweat440's proprietary system is supremely efficient. For instance, our ski ergs act like a piece of resistance equipment, toning your total body. But they also provide an incredible cardio workout through the range of motion.
How Does HIIT Help With Building Muscle and Losing Weight?
Since HIIT combines cardio and resistance in specific ratios, you accomplish weight loss and improved strength simultaneously. If you don't need to lose weight, our trainers adjust the weights and resistance to intensify muscle growth instead. Whether you want to bulk up or sculpt lean muscles, HIIT is designed to accommodate personal goals.
Each person moves through stations at their own speed and ability, so it's totally customizable. Unlike classes where everyone is encouraged to work at a certain speed or with a certain number of pounds, our instructors individualize stations as needed for each participant. If you want to lift heavier weights, row faster, use bigger slam balls … the choice is yours, and our certified trainers are there to guarantee your safety and success.
What are HIIT Workouts Like?
HIIT workouts vary depending on where you do them. Many gyms offer classes they call "HIIT," but they aren't actually trained in the method. HIIT incorporates various intervals of intensity to maximize oxygen consumption during your workout, thereby burning the most calories possible. But, not just any intervals or intensity will do. In fact, some gyms implement dangerous practices like heavy lifting at rapid speeds, leading to serious complications like rhabdomyolysis and knee replacements.
Star by choosing a gym that specializes in HIIT, like Sweat440. We teach HIIT all day, every day, so you're always guaranteed a safe and effective workout, no matter when you arrive. Each of our HIIT classes is led by a certified instructor to keep you safe and in proper form. We follow a scientifically proven formula to produce the best fitness results.
●    Sweat440's Proven Work to Rest Ratio
Sweat440 uses the formula of 4 10-minute stations performed in 40 minutes. Each station includes 3 sets of 3 different exercises, performed for 45 seconds. Between each set, you get 15-second rest periods. Then you take a 1-minute break before moving on to the next station. We allow just enough rest to gear up for your next set, without letting your body lose momentum.
●    Sweat440's Awesome HIIT Instructors
Sweat440 was founded by personal trainers, so instructing is huge for us. Our trainers circulate through every class, assisting with every station. You are never on your own to figure things out. We even have screens displaying animated demonstrations at each station. Our instructors won't let you injure yourself with overexertion, nor will they let you slip into complacency. You'll get in the best shape of your life with our amazing HIIT workouts.
Blast Boredom and Fat With These Sweat440 HIIT Workouts
1.   Shape- Lower Body
Complete intense circuits of compound exercises with assault bikes, kettlebell squats, and sliders while shaping and toning your entire body, specifically the lower body and core.
2.   Shred- Upper Body/Core
Engage in metabolic conditioning circuits with a blend of upper body resistance training and core exercises. Designed to get you lean and ripped fast, we implement suspension trainers, dumbbells, ski ergs and slam balls.
3.   Sweat- Core/Conditioning
High-intensity exercise fuses with core work in this heart-pumping, ab shredding class. Think TRX, rowers, and sleds.
4.   Shred- Lower Body/Core
Mix metabolic conditioning with agility, plyometric, and lower-body resistance training in this class that leans you out quickly and tones your core. Burpees, sliders, and functional exercises shred your quads and glutes.
5.   Shape- Upper Body/Core
Compound cardio in intervals of high intensity shape your upper body and sculpt your core while providing a full body workout. Versa climbers, kettlebells, and body weight exercises enhance your shape.
6.   Warrior- Total Body Conditioning
A mix of high-intensity intervals and core crushing exercises leave you exhilarated and totally toned in this full-body workout.
Which one do you want to try? Our HIIT classes are designed for all fitness levels, so jump in and join us! You won't believe how quickly you get results!
​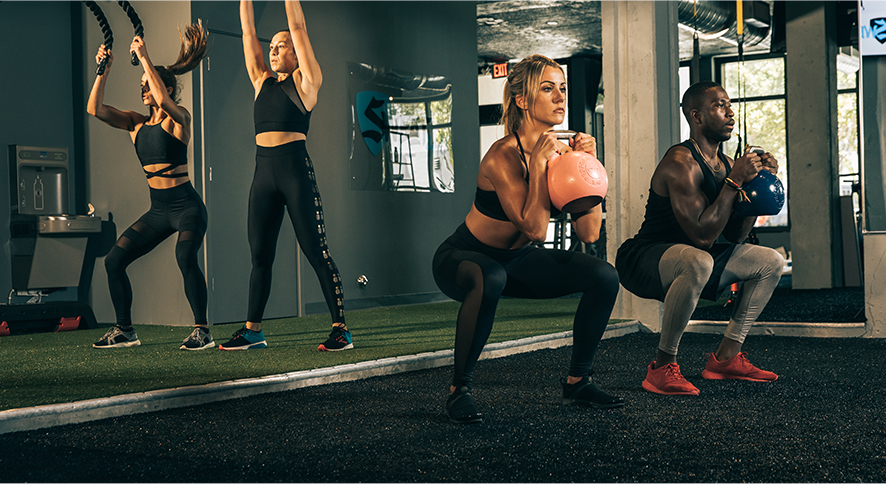 How to Find Awesome HIIT Workouts Near Me
Choose a Gym That Specializes in HIIT
Sweat440 is a dedicated HIIT gym, teaching only HIIT.
Sweat440 teaches HIIT all day, not just once a day.
Sweat440's HIIT classes are led by certified instructors.
Sweat440 has HIIT classes every 10 minutes.
Sweat440 prioritizes safety with proper intervals.
Sweat440 varies intensity for max calorie burn, not burnout.
Look for a Qualified HIIT Gym With Strong Reviews
Sweat440 has 5-star reviews on Yelp.
Sweat440 has 5-star reviews on Google.
Sweat440 has 5-star reviews on Classpass.
Sweat440 has glowing reviews on Sweat440.com
Sweat440 has enthusiastic followers on YouTube.
Sweat440 has thousands of likes on Instagram.