Does Athletics Fit Miami Meal Delivery Really Work?
Athletics Fit Miami is one of the many meal delivery services promising to help with weight loss and fitness. It began as a service to professional athletes, but the owners soon realized that many people could benefit from healthy foods delivered to their doorstep. They use fresh ingredients and deliver meals the day they're prepared- unlike some services that ship foods frozen.
You might be wondering whether it works, and whether it's worth the investment. Well, that depends on who you are and how it fits into your lifestyle. The short answer is, Athletics Fit Miami isn't doing anything revolutionary that you can't do on your own. But, for some people, the convenience of someone else doing the planning and cooking is worth the extra cost. Take a look at the pros and cons of Athletics Fit Miami, and learn how joining your local Sweat440 might be the better solution.
What Athletics Fit Miami Provides
Portion Control– One thing that trips people up on their weight loss journey is knowing how to portion their food. Athletics Fit Miami preps balanced meals and offers them in three sizes, depending on your needs.
Healthy Ingredients– Athletics Fit Miami uses lean proteins, vegetables, fruits, and grains, while minimizing additives, sweeteners, and artificial ingredients. Unlike some meal replacement plans with shakes and protein bars, they use real, whole foods.
Convenience– Athletics Fit Miami does all the cooking so you just reheat the food. They deliver it to your door three times a week in an insulated bag, so you don't have to pick it up yourself.
Weekly Planning– They plan out a week's menu and rotate it every week. You get a variety of meals and food groups without having to hit the grocery store multiple times a week.
What Sweat440 Miami Provides
Sweat440 agrees with Athletics Fit Miami's goal to simplify fitness. In fact, we share some of the same positive attributes. The difference is, we also cover the bases that Athletics Fit Miami doesn't. Take a look at what we offer.
Portion Control– When it comes to exercise, there's an amount best suited to you, just like food. Some people overtrain, not allowing their muscles time to recover. Others under-train, either on purpose, or by not knowing better. At Sweat440, we pack the best workout into just 40 minutes with four 10-minute stations that target your VO2 max. Our trainers are with you the whole way, so you always perform at the ideal level.
Healthy Ingredients– Just like with food, exercise can be helpful or harmful. If you lift too much weight or overtax your heart, exercise can harm. But the right workout is only beneficial. At Sweat440, we blend essential ingredients like constant coaching, upbeat music, accommodations for limitations, and positive classmates to provide a workout that's healthy for body, mind, and soul.
Convenience– Sweat440 has 4 locations near Miami so you are always steps away from our gyms. Our classes start every 10 minutes, so you are #neverlate. We have showers and locker rooms so you can get in and out quickly and get on with your day.
Weekly Planning– Much like a weekly meal plan helps with shopping and food prep, a weekly gym routine keeps you on track. At Sweat440, our classes repeat all day, and change daily, so you get a varied workout throughout the week. No need to stress about your weekly fitness plan, Sweat440 already mapped it out for you.
What Athletics Fit Miami Lacks
While Athletics Fit Miami means well, there are a few ways it falls short. Just like its predecessors, it faces some hurdles, including the fact that people tire of these meal plans quickly. It's more effective to learn simple meal-prep yourself, so you can choose the ingredients you like and not worry about being home for deliveries. Before you sign on, see if these drawbacks are an issue for you.
No Individual Customization- If you're looking to select specific ingredients, you don't have total control. While you can choose some proteins, carbs, and veggies, the additional ingredients and preparation methods aren't customizable. So, if you're following a specific meal plan, you might get ingredients you can't eat.
No Allergy Precautions- Athletics Fit Miami doesn't have dedicated kitchens for issues like Celiac Disease, nut allergies, lactose intolerance, or food sensitivities. If you have dietary restrictions, it's a risk to consume their products.
No Total Satisfaction- While some customers rave about the food, others claim their order was wrong, or the food was dry or burnt. Others say that they enjoyed some meals, but many weren't appealing. If you pay for a week's worth of food, it's a hassle and waste when some meals are inedible.
Poor Customer Service- Some customers mention that no one returned their call, or they received food items they were allergic to, or the order didn't arrive on time. The website is vague in some categories, and the response time appears to be slow.
No Flexibility- Orders must be placed 2 days in advance, and deliveries occur Sunday night, Tuesday night, and Thursday night. So, you can't order a meal for lunch the same day, or ask for deliveries on different days of the week. If you work late or travel, your food will be stuck on your doorstep.
Why Sweat440 is the Key to Fitness
Sweat440 hits all the marks with healthy living- making fitness affordable, convenient, and accessible for all. We deliver the right components in the right amount of time, with professional instruction throughout each of our classes. Here's how Sweat440 prevents the issues Athletics Fit Miami faces.
Individual Customization- Our certified instructors are pros at adjusting a workout to meet your needs. With hundreds of varied compound cardio circuits, we don't generalize fitness by sticking you on a treadmill or bike- we customize every class.
Safety Precautions- We never suggest our members use equipment or movements they aren't capable of, and we take safety very seriously. We always accommodate limitations and watch our members closely for signs of exhaustion or strain. Safety is of paramount importance to us.
Total Satisfaction- Our members across all platforms give us 5-star reviews for our quality, effectiveness, pricing, and convenience. We're confident you'll feel the same way. That's why we offer free classes to show you what we're about.
Excellent Customer Service- At Sweat440, you aren't a customer, you're a friend, classmate, and partner on the fitness journey. We always want to hear from you and address any concerns. We share in your fitness goals and we designed Sweat440 to improve the member experience.
Total Flexibility- At Sweat440, you can buy one class, or buy a bunch. You can take a class in the morning, or take it any time later that day. You can train with kettlebells and dumbbells, or use slam balls, sleds, and sliders. Get your cardio on an assault bike, or use ski ergs, sleds, and versa climbers. At Sweat440, we're all about flexibility. The one thing that doesn't change? Every one of our HIIT classes is the best workout you'll find in Miami.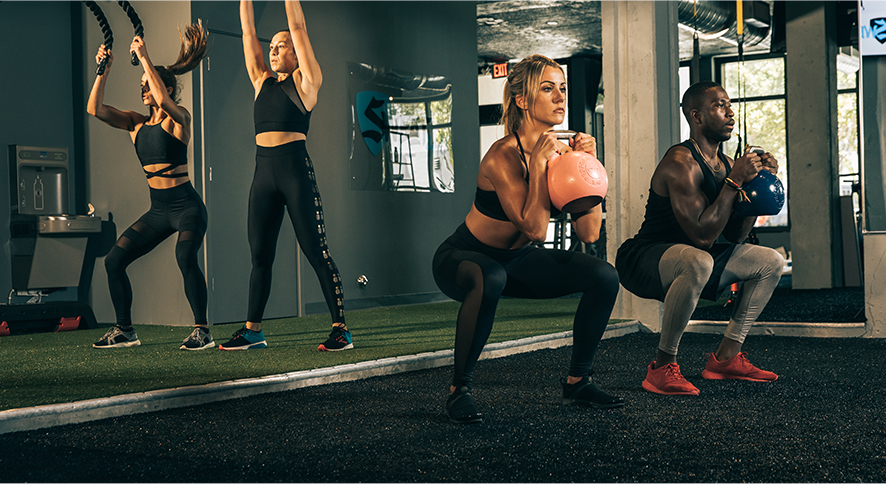 How Athletics Fit Miami and Sweat440 Miami Compare
Flexible schedule
Convenient locations
Diverse workouts
Personalized training
Memberships for each budget
Customer satisfaction
Safe workouts for every level
Weekly fitness plan
Perfect fitness combo in shortest time
Athletics Fit Miami Weaknesses
Not allergy friendly
Customer service is lacking
Inflexible schedule
Not all meals are your taste
Quality varies
Not sustainable long term
Costs more than shopping yourself
Has to be ordered in advance
Doesn't account for appetite fluctuations