The Best Athletic Clubs Near Me to Enhance Performance
What are your athletic goals? Are you training for a marathon? Do you want to add power to your golf swing? Do you want to heighten to your vertical jump? Do you want to increase your cycling endurance? Do you want to improve your bench-lifting ability?
Whether you're trying to go pro or just trying to beat your buddies in pick-up basketball, we all need athletic goals. They're what drive us to succeed, to gain self-confidence, to empower our vitality. Plus, who are we kidding, there's a healthy dose of fun and bragging rights involved too!
How Health Clubs Optimize Athletic Performance
No successful athlete reaches the peak on their own. Coaches, teammates, and trainers push athletes to be their best. The key to reaching your athletic goals is partnering with an athletic club that can optimize your performance. At Sweat440, our personal trainers are included for free in each small group class. That means you get the benefit of teammates, coaches, and fitness expertise in one complete package- the perfect recipe to improve your athleticism.
Our team mentality provides inspiration, encouragement, and motivation to push past perceived limitations and plateaus. Our upbeat music and positive atmosphere help the classes fly by, so you work hard without hating every minute of it! With individual workouts, you're prone to working beneath your ability, or even over-exerting. But when you work with Sweat440's trainers, they make sure you're working in perfect form, to the best of your ability, so you reap the rewards of your efforts.
How HIIT Fitness Classes Enhance Athletic Ability
If you want to see what you're really capable of, join Sweat440's gyms that employ high-intensity interval training (HIIT), paired with personalized training. HIIT fitness classes target your VO2 max, or the maximum oxygen consumption possible during a workout. As a result, you burn more calories in less time than other workouts, and continue burning calories for hours after your workout.
But it's not just the amount of calories you burn, it's also the amount of muscle you build that makes HIIT so effective. Sweat440 uses compound cardio sessions that strengthen your body while blasting fat. It's the most potent workout, packed into 40 quick minutes. You won't find another workout that enhances athleticism more than HIIT. Experts agree, HIIT is the most efficient way to get fit. Some even call it the "fountain of youth," in that it enhances cellular machinery.
Our state-of-the-art facilities are an athlete's dream, with equipment diversity and compound cardio training that maxes out every workout. We even include an animated demonstration on screens at each station, so you always stay in perfect form. Read on to learn more about how our HIIT fitness classes enhance athletic ability.
How HIIT Athletic Clubs Near Me Improve Athleticism
Ask any professional athlete how they train, and you'll find components of HIIT in their workouts. The variations of intensity interspersed at proper intervals allow you to train harder for longer and improve your total fitness. It's not effective, nor advised to simply use intensity, or intervals. Rather, the expertly executed combination of both yields the best results.
Working at high intensity for the duration of your workout is not only dangerous, it's also counterproductive. Without variations in intensity, your body actually tires out more quickly and your form starts to suffer. Intervals of excessive or inadequate lengths won't allow you to enter both aerobic and anaerobic states or engage essential components like fast-twitch muscle fibers.
The proper intervals of intensity are essential to optimize your results. At Sweat440, we use 4 10-minute stations, each with 3 sets of 3 exercises performed for 45 seconds. There are 15 seconds of rest in between to trigger maximum calorie burn. Our proven system delivers 5-star results to athletes at all levels of conditioning. Since you work at your own speed and ability, it's safe and effective for beginners, all the way to the most elite athletes.
How Sweat440 Helps Athletes Exceed Fitness Goals
Sweat440 is uniquely qualified to train with athletes in several ways.
Sweat440's classes start every 10 minutes, so athletes can train any time of day, working around game and practice schedules.
Each of Sweat440's classes is led by a trainer who works individually with each class member to ensure proper form and exertion levels.
Sweat440 is staffed with instructors around the clock so athletes don't risk injury, since they're always accompanied by fitness experts.
Our diverse collection of equipment helps athletes avoid muscle memory and complacency, since we keep your body guessing.
Our compound cardio stations make the most of your workout, building muscle while burning calories.
Sweat440 uses high-tech training tools to simplify workouts like digital demonstrations and scheduling apps.
We have specialized tools for every sport, like assault bikes, suspension trainers, rowers, sleds, sliders, versa climbers, ski ergs, slam balls, dumbbells, kettlebells, and battle ropes.
Whether you're a professional athlete or want more stamina to ride bikes with your kids, Sweat440 offers athletic clubs near you that enhance athletes of all levels. Whenever you want to work, we're ready to go! Let's take your game to the next level!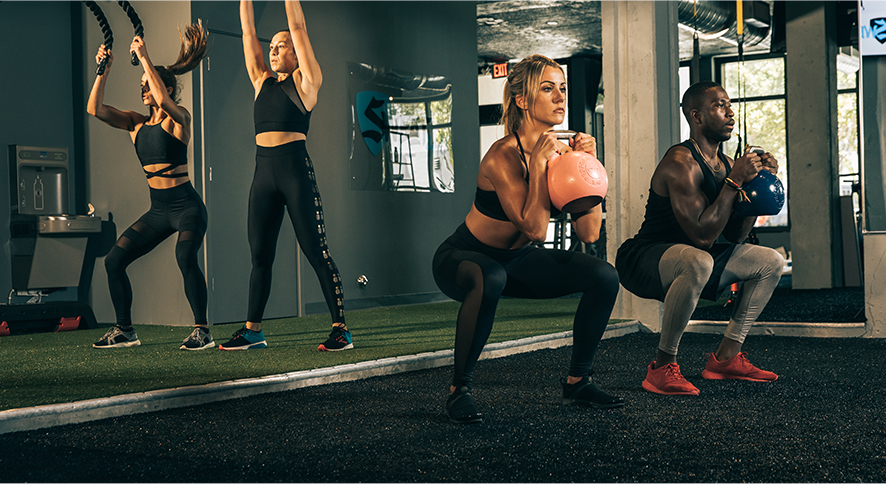 How to Find the Best Athletic Clubs Near Me
Look for These Essential Elements:
Choose a gym that teaches HIIT classes.
Choose a gym with flexible hours.
Choose a gym with state-of-the-art technology.
Choose a gym with classes for all levels.
Choose a gym with sport-specific equipment.
Choose a gym with a team mentality to reach goals.
Choose a gym with convenient locations.
Choose Health Clubs With Qualified Trainers:
Choose a gym with certified trainers.
Choose a gym where trainers are always present.
Choose a gym where training is free in the classes.
Choose a gym founded and run by trainers, not investors.
Choose a gym with experience training athletes.
Choose a gym with 5-star reviews for athletic expertise.
Choose a gym with training technology and demos.