The Anytime Gym Near Me for Unpredictable Schedules
Do you like to work out at 7:00 am to energize you for the day? Or do you like the post-work stress relief of a 7:00 pm workout? Maybe you work out at various times, whenever you can fit it in between endless meetings or countless parenting duties. No matter when you like to work out, Sweat440 is the anytime gym near you that fits your schedule.
Why Anytime Fitness Makes a Difference
● Anytime Gyms Provide Consistency
Consistency is the key to optimal health and fitness. But it's hard to stay consistent with workouts if the gym doesn't fit your schedule. Some people swear by a morning workout, while others like to crush their gym goals at night. Doctors agree that consistency is more important than when you work out. So, you need a gym that's available anytime you're ready to exercise. Sweat440 has classes every 10 minutes, so you can stay consistent with fitness, no matter when you want to work out.
● Anytime Gyms Provide Convenience
If you're feeling motivated to work out but your gym is all the way across town and you're facing rush hour traffic, that motivation might disappear. Likewise, if you're feeling pumped for a workout and no class times are available, it hampers your fitness progress. Gyms that are available anytime provide the convenience you need to stay fit. Sweat440 has multiple convenient locations so there's always an "anytime gym near me." With classes that repeat all day long, you aren't tied to a certain time slot, and you never have to miss a sweat session.
Gyms Need Availability, Not Just Hours, for Busy Schedules
● Being Open 24 Hours Isn't Sufficient
Some gyms are open 24 hours, but aren't staffed around the clock for instruction or assistance. Other gyms have extended hours but limited classes, so you can't find the class you need. And some gyms are so packed during peak hours that you can't find a space to work out. If you have an unpredictable schedule, you need a gym with available equipment and classes, not just a gym that's open 24 hours.
● Class Availability and Workout Space are Key
When you have 45 minutes to squeeze in a workout, you don't want to find all the treadmills taken and classes booked up. Sweat440's classes start every 10 minutes, so that whenever you come, you're only minutes away from a full body workout. You don't have to wait and you're #NEVERLATE at Sweat440. You don't have to book classes months in advance. We know life can be unpredictable. Book classes online, or through our app, or just stop in and we'll fit you in within minutes!
An Anytime Gym Needs Personal Trainers Readily Available
● Individual Personal Trainers Have Limited Availability
If you want to make the most of your workout, partner with a personal trainer for quick results. But don't make the mistake of booking an individual personal trainer with a singular timeslot designated for you. Busy schedules and life's interruptions mean those appointments will often get cancelled, either by you or your trainer. Then you're stuck paying a bill for a workout you didn't receive.
● Sweat440's Personal Trainers Assist in Every Class
Choose the gym where personal trainers are included for free in the class- Sweat440. Each of our small group classes incorporates personalized instruction at each fitness station. No matter when you come to the gym, you get individual assistance from a certified trainer. Our gyms are staffed around the clock, so you don't have to choose a specific time to receive instruction. No matter when you show up, we're ready to work with you!
The Best Health Clubs for Unpredictable Schedules
● Sweat440's Classes Start Every 10 Minutes
If you're looking for the "anytime gym near me" that fits your busy life, look no further than Sweat440. Our unprecedented schedule format means there's always a class ready for you to join. No need to book classes ahead of time, or limit yourself to a specific time with a personal trainer.
● Sweat440's Classes Repeat All Day, Instead of One Set Time
Our classes are offered all day long, rather than one time slot each day. If you want to sculpt your abs, torch your glutes, or pump up your pecs, you can do it around the clock at Sweat440. Each day provides a full body workout with concentrated focus on certain areas. That means you can pop in any day, any time, and get a powerful workout in just 40 minutes. Take a look at our convenient schedule.
● Typical Sweat440 Schedule:
Monday: Shape- Lower Body
Tuesday:  Shred- Upper Body/Core
Wednesday: Sweat- Core/Conditioning
Thursday: Shred- Lower Body/Core
Friday: Shape- Upper Body/Core
Saturday: Warrior- Total Body Conditioning
Sunday: Warrior- Total Body Conditioning
Jon the gym that's ready when you are! After all, it's your gym, shouldn't you set the schedule? Stop in today and try a class for free! With convenient locations in New York, Florida, and Montréal, Sweat440 is the anytime gym near you that makes fitness possible for everyone.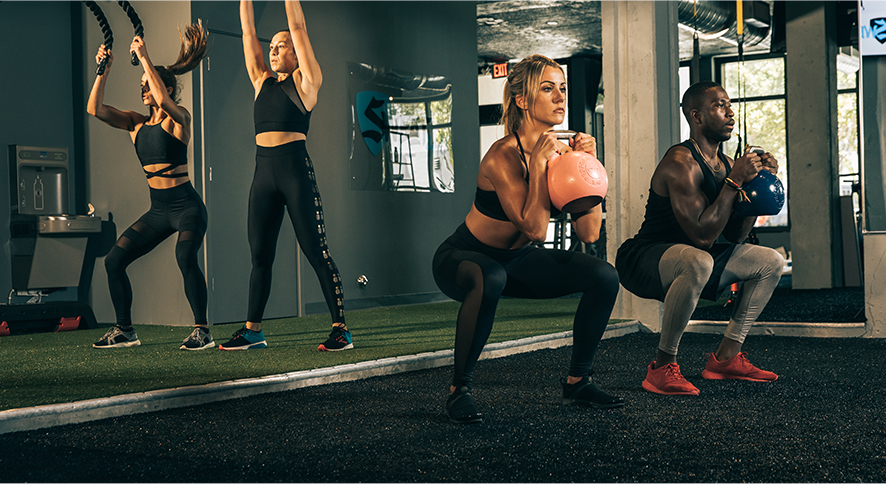 How to Find the Best Anytime Gym Near Me
Choose a Gym With Convenient Locations:
Sweat440 in Miami Beach at 1916 Bay Rd.
Sweat440 in Miami at 25 SW 9th St., Suite G100
Sweat440 in Doral at 8395 NW 53rd St.
Sweat440 in Coral Gables at 301 Altara Ave., Suite 111
Sweat440 in NYC/Chelsea at 600 6th Ave.
Sweat440 in NYC/FIDI at 80 John St.
Sweat440 in Montréal at 5000 Rue Jean-Talon O
Choose a Gym With Availability:
Sweat440 has classes every 10 minutes.

Sweat440 has personal trainers staffed at all times.
Sweat440 uses intervals and stations for ample workout space.
Sweat440 uses 4 10-minute stations for equipment availability.
Sweat440 has diverse machines for cardio options.
Sweat440 allows scheduling, as well as walk-ins for classes.
Sweat440 has gyms throughout the city for tons of class options.