​Sweat440 or Anytime Fitness Locations Near Me: Which is Better?
Sweat440 and Anytime Fitness are both popular personal training and group fitness gyms. Anytime Fitness, as the name suggests, promotes the fact that they're open 24/7, but that may come at certain costs, and I don't just mean monetary costs. Sweat440, meanwhile, provides a perfectly-structured and curated group fitness experience with personal trainers and flexible times. Are you conflicted between "Sweat440 or Anytime Fitness locations near me?" In this article, we discuss both the Sweat440 and Anytime Fitness training modules.
Should I get a membership to Anytime Fitness?
The Anytime Fitness concept is simple — it's all in the name. They provide fitness anytime, 24/7. However, while your Anytime Fitness locations near me may be open 24/7, they cut corners in other areas.
Anytime Fitness can only stay open 24/7 because they don't promise 24/7 staffing. Consequently, you may find that you're on your own at the gym, or at least without an attendant. This can be dangerous because you may not have assistance or a spotter nearby when you need one. The lack of supervision also leads to an extremely structure-less fitness program that's not conducive to sustained growth. Anytime Fitness does provide personal training options. However, the cost of personal trainers, especially in New York, is astronomical.
Anytime Fitness is a massive franchise with over 4,000 locations globally. By the time you read this article, this number may have even changed, who knows! As such, you can probably find Anytime Fitness locations near me wherever you are, but we can't recommend them, not if you're serious about meeting long term fitness goals.  
Should I get a membership to Sweat440?
Sweat440 is a polar opposite of Anytime Fitness in a lot of respects. While Anytime Fitness is a fairly generic mass franchise, Sweat440 is a unique concept geared towards fitness aficionados. Sure, we're not open 24/7, but that really doesn't matter if you're serious about fitness.
Sweat440 has a unique concept. We offer group fitness classes supervised by a certified personal trainer. Each group fitness class consists of four fitness stations, each of which comprises three sets of three exercises executed in clockwork fashion within 10 minutes. As you move from one fitness station to the next, you open up the previous station to a new group. As such, we move in this continuous loop to ensure a new group can join the class every ten minutes. As such, Sweat440 offers the benefits of group fitness and personal trainers while ensuring you have the flexibility to join the class whenever you want.
Furthermore, Sweat440 also provides structure, which is essential for holistic long term fitness goals. Our Sweat440 weekly schedule has been designed and curated by a certified expert, and it incorporates elements of cardiovascular fitness, HIIT, strength training, core training, and more. As such, we want you to make the most of your training sessions — train hard, but intelligently. So, yeah, you should definitely get a Sweat440 membership.
Sweat440 fitness member success stories.
Sweat440 has some truly stellar fitness member success stories. We have rave reviews from our fitness members. The following are just some of our favorite fitness member success stories:
Nikki B., Sweat440 Chelsea: A great concept! It's a HIIT workout and it's fast. The trainers really pay attention to your individual needs and I highly recommend it.
Celia T., Sweat440 Miami Beach: I am truly so happy I found this gym. I can't say enough good things about it. First of all let's start with the fact that every single staff member is so kind and professional. Second, the workout itself is amazing for many reasons. It goes by extremely quickly because it is so fun and engaging, and you can make it specific to you ALWAYS. My fitness level has definitely improved thanks to the trainers as well, they are very supportive without being pushy. Love this gym and concept, and can't wait to see it grow!
Ilan B., Sweat440 Chelsea: I'm getting addicted to this place. Great energy, friendly and professional staff; incredible space, excellent equipment, and the classes are designed to make you sweat! Never a dull class, they are always changing it so you don't get bored doing the same thing over and over again.
Sweat440 has some of the most unanimously stellar ratings from fitness members. The following is a brief overview of our ratings on different platforms.
Google: 5/5 Stars
ClassPass: 4.9/5 Stars
Yelp: 4.5/5 Stars
WellnessLiving: 4.9/5 Stars
But don't take our (or their) word for it! Find a Sweat440 gym near your location and decide for yourself! Currently, Sweat440 has two locations in New York and four locations in Florida, though we're constantly looking to expand. All of our Sweat440 gyms are close to popular landmarks, making them easy to find and access. For example, our Chelsea NY Sweat440 is near the 18th St. and 14th St. Metro Stations and within a short walk from Madison Square Park.
Talk to a Sweat440 personal trainer today!
At Sweat440, your first class is FREE! We mean it — totally free, no hidden costs, no cancellation fee. All you have to do is show up ready to sweat, sign up, and get started! As mentioned above, we have classes starting every 10 minutes, so you're literally never late. Drop by anytime you want and claim your free sweat session!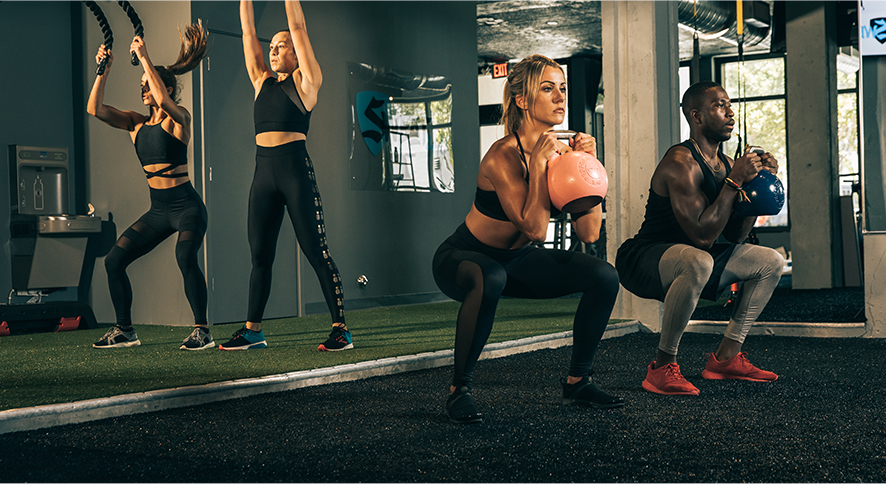 Sweat440 Locations Near Me
Sweat440 Locations in New York & Florida
Advantages of Sweat440 Membership
Group fitness classes every ten minutes, so you're #neverlate.
Group fitness with personal trainers.
Structured weekly workouts.
Fitness programs include cardio, HIIT, core training, and strength training.
Flexible memberships without binding contracts.
Well-appointed and advanced facilities.