Looking for "Anytime Fitness Around Me?" Check Out Sweat440!
Some gyms like Anytime Fitness promote the fact that they are open 24/7. While that adds convenience for some people who hit the gym extra early or extra late, it's not a huge advantage for most members, and it comes with certain drawbacks. In order to remain open around the clock, they have to cut costs elsewhere. The best gyms, like Sweat440, offer convenient hours without any sacrifices in member experience. Here's how Anytime Fitness cuts corners and how Sweat440 has you covered.
How Anytime Fitness Stays Open 24/7
Shortened Staff
In order to keep the building open around the clock, Anytime Fitness saves elsewhere. Unfortunately, that means short-changing you of some necessities. Anytime Fitness doesn't staff all of their gyms for the full 24 hours, which means you can't get training, or even a spotter when you need it. It also involves some safety risks, despite the security system. Although non-members can't easily access the building, you might be working out alone, or with strangers, with no assistance nearby. And Anytime Fitness members are at risk should they sustain an injury during hours when the gym isn't fully staffed. Trainers circulating throughout a gym are essential to picking up on cues like a person who is overexerting, overheating, or dehydrated.
Amenities Are Extra
Anytime Fitness also provides the bare minimum- meaning basic equipment, TVs, and bathrooms. But anything else costs extra, including personal training. They are all independently owned and operated, with thousands of separate franchisees. So, while the website mentions amenities like group classes and tanning booths, features vary by location and many just have simple equipment. In fact, some franchisees are granted exceptions, such that they aren't even open 24 hours. 
Mass Franchising
With over 4,080 Anytime Fitness locations, there is a huge range of what you actually get with your membership. Franchisors and franchisees frequently have no background in physical fitness, so Anytime Fitness Clubs are not always the best bang for your buck. With rapid growth, quality can suffer. Sweat440, however, was founded by professional trainers who see fitness quite differently. While we are growing to meet customer demand, we have a controlled growth plan that ensures each gym is everything you want it to be. No shortcuts, just member-focused fitness.  
How Sweat440 Stays Accessible and Available
Extended Hours
At Sweat440, we know how important it is for fitness experts to oversee your workout. We don't risk having our members workout in an empty gym, but we do make our gyms super accessible. With multiple locations near you and classes that start every 10 minutes, you can always fit exercise into your schedule. We open early and stay open late, and we're fully staffed at all hours.
Frequent Classes
Whether you work first, second, third, or multiple shifts, our classes align with your life. We utilize the high-intensity interval training (HIIT) method which packs a potent workout into just 40 minutes, so everyone has time to stay fit. Our classes repeat throughout the day, so you don't have to miss your favorite if you work the night shift and the class is offered in the morning or vice versa, like Anytime Fitness' schedule.
Flexible Memberships
We don't make you sign contracts or book classes way in advance, and we never charge for classes that you miss. So, no matter how crazy your schedule gets, we're here for you when you arrive. At Sweat440, you're #Neverlate. There's a class starting soon, no matter when you arrive. Many gyms only offer each class once a day, but we keep them running all day long.
Training Included
Our trainers instruct you for free in every class, so you don't have to schedule individual appointments with a personal trainer. Just choose any class, and we'll train you. It's as simple as that. We have an online scheduling app and a front desk staff to help you any time of day. In fact, our founders created Sweat440 with the mission to make fitness more accessible to you!
Why a Gym's Hours Don't Equate to Effectiveness
It's What's Inside That Counts
A gym being open when you need it is a start, but what matters more is what happens once you're there. Experts agree, personalized instruction and group fitness classes provide health benefits that solo workouts can't duplicate. Everything from sticking to your routine, to pushing yourself harder, to using competition as motivation is linked to group classes like Sweat440 leads. At Anytime Fitness, you lack that camaraderie, unless you go during standard hours and pay extra for the limited classes they offer. 
Community Impact
A trainer who knows your goals or a classmate who's in the same boat are often the difference between giving up and succeeding. Sweat440's environment is conducive to success, since we're all in it together. Don't battle the bulge or train for your race alone- we want to help see you to the finish line. We get through each workout together, and we come out with amazing results!
Accountability Matters
Sweat440 provides group morale all day long, with expert instruction in every single class. Our HIIT classes are designed to give you the best possible workout, and our trainers help you stick to it. If you head to an empty Anytime Fitness in the middle of the night, you might work hard, or you might not give it your all. After all, who's there to boost your momentum? For an effective workout, choose the potent combo of personalized training and group fitness classes whenever you need them at Sweat440.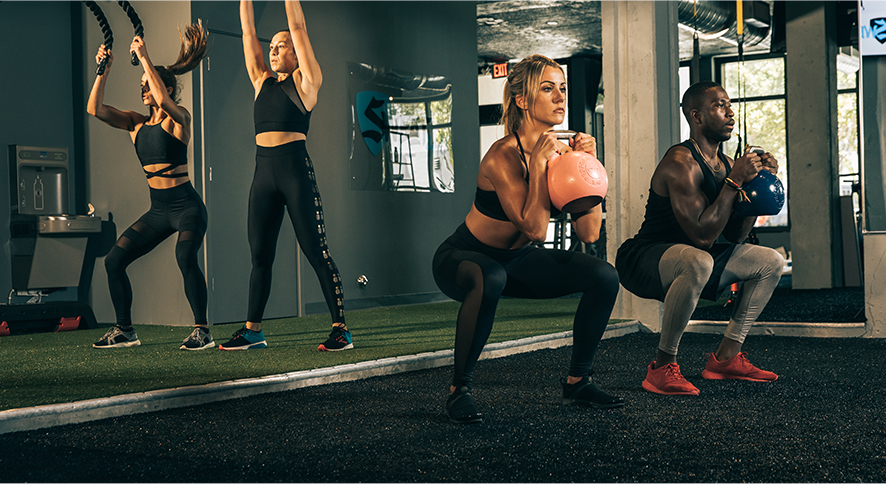 How Sweat440 and Anytime Fitness Compare
What Sweat440 and Anytime Fitness Have in Common
Both gyms have extended hours.
Both gyms have multiple locations.
Both gyms offer fitness classes and personalized training.
Both gyms have amenities like restrooms and showers.
Both gyms offer affordable fitness.
How Sweat440 and Anytime Fitness Differ
Sweat440 staffs its gyms around the clock, unlike Anytime Fitness.
Sweat440 is founded by certified trainers and each location is consistent.
Sweat440 offers far more classes and training is included in the price.
Sweat440 has more advanced equipment and technology like animated demos.
Sweat440 allows you to purchase one class at a time without any contracts.