The Affordable Gyms Miami Assumes Are Expensive
As large luxury gym chains make way for more desirable boutique fitness centers, many assume the price would increase with the individualized instruction. For some small gyms, that's correct. But Sweat440 offers a unique concept. Our state of the art training facilities provide personalized training with innovative tools and technology at a fraction of the price. And we offer a variety of monthly memberships with no contracts or pricey enrollment fees. Some Miami residents assume Sweat440 gyms would be out of their budget, due to our popular HIIT method and 5-star reviews. But here's how we combine affordability with luxury for the ideal fitness experience.
​
Sweat440: The Gyms That Combine Luxury with Affordability
5 Luxuries Sweat440 Makes Affordable:
Class Availability– Many pricey gyms keep classes out of reach to increase desirability. Some favor wealthy or famous clients or hold spots for people who buy the most classes. It's not fair to pay a fortune in membership fees for classes you can't ever get into. At Sweat440, our classes start every 10 minutes, so you always find a spot. Every member is a VIP in our gyms.
Personal Training- Every one of our classes includes personalized training at no extra fee, so you reap the benefits without paying a fortune. We blend the camaraderie and enthusiasm of classmates with the expertise of trainers into one perfect package, so you get everything you need for the best price. Our express circuits of compound cardio create a workout for weight loss that also builds muscle– two perks for the price of one!
State of the Art Equipment- Have you tried a ski erg, versa climber, assault bike, or suspension trainer? Sweat440 has all the latest equipment that other gyms charge a fortune to use. Even better, our trainers are certified in the techniques so you get high-quality instruction to supplement the high-tech equipment. Each class delivers a full body workout, with different areas targeted each day for maximum impact.
Innovative Technology- Our scheduling app and digital presence are just the start of the luxury tech amenities we offer. Check out our animated demos at each exercise station or our selfie station to capture your post-workout glow. We simplify your life by blending health and fitness with social life seamlessly.
Convenience- Convenience is often costly, but Sweat440 makes convenience affordable. We have multiple locations near South Beach, Doral, Coral Gables, and Downtown Miami with classes that fit your schedule. We offer showers and all the amenities you need to get to work or meet your friends after the gym. And our classes pack the best workout into 40 minutes, so you can always make time to be fit.
4 Affordable Gyms in Miami With Luxury Features
Sweat440 Brickell
One of our affordable gyms in Miami perfect for workdays, this location is just around the corner from the Bank of America Financial Center, Chase Bank, and SunTrust for your commute. Visit us at 25 SW 9th St., Suite G100, Miami, FL.
Sweat440 Coral Gables
Close to luxury shopping at the Shops at Merrick Park, our Coral Gables location saves you money so you can enjoy your shopping spree. Stop by our boutique studio at 301 Altara Ave, Suite 111, Coral Gables, FL.
Sweat440 Miami Beach
Want to get a luxe vitamin fix at a juice bar? Check out our Miami Beach location at 1916 Bay Rd, Miami Beach, FL, down the street from Sunset Juice Cafe and Delicious Raw Kitchen and Juice Bar.
Sweat440 Downtown Doral
Get an exotic food fix after your workout at Bulla Gastrobar or Pasión del Cielo Coffee when you visit our Downtown Doral location at 8403 NW 53rd St, Doral, FL.
Why Some Cheap Gyms Aren't Really Affordable
Some cheap gyms offer low monthly membership costs, but they aren't actually a smart investment. If the gym offers no training or instruction, at best, you might over or under exert yourself, and at worst, you could wind up injured. Either option proves more costly than paying a little more for a good gym.
Other cheap gyms have outdated or malfunctioning equipment which is not only dangerous, it's also ineffective. Many are so overcrowded you can't find a spot in a class or on a machine. In either case, you're paying for a membership you can't really use. And most cheap gyms count on you not being there, that's how they make more money. So, they lock you into crazy contracts you end up paying for long after you've quit working out there.
At Sweat440, we don't charge for classes you can't get into, contracts you can't get out of, or equipment you can't use. It's important to find affordable fitness, but "cheap" is a wide category. At Sweat440, we offer all the benefits of luxury fitness plus individual instruction at a price you can afford. No matter the cost, a gym is only a wise investment if you use it and it improves your health. Some cheap gyms not only discourage you from working out, they even put your health at risk. At Sweat440, your investment has a guaranteed return of superior results.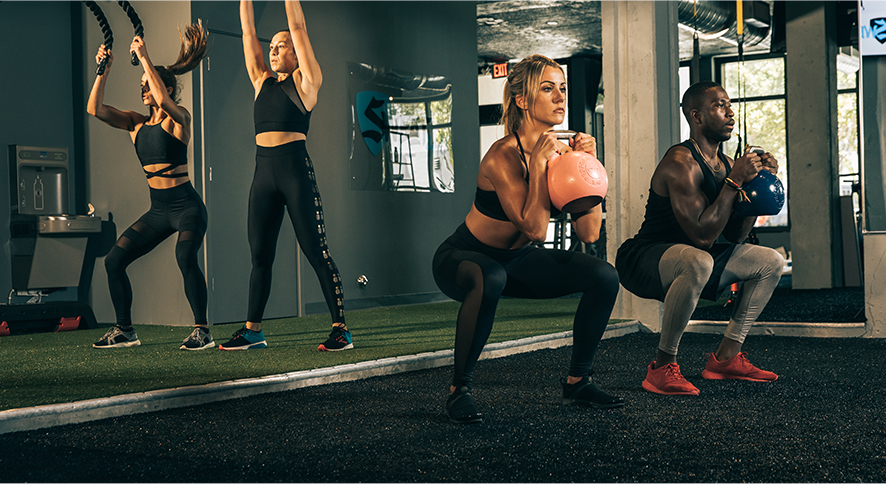 How To Find the Best Affordable Gyms in Miami
Avoid Things That Make Cheap Gyms Costly
Avoid cheap gyms that lock you into costly contracts.
Avoid cheap gyms with no group classes to maximize your investment.
Avoid cheap gyms with personal trainers that cost extra.
Avoid cheap gyms with outdated or malfunctioning equipment.
Avoid cheap gyms with no showers or locker rooms since time is money.
Avoid cheap gyms that aren't staffed continually to prevent costly injury.
Join a Gym That Invests Generously in its Members
Sweat440 invests your money in innovative equipment, not a vast footprint.
Sweat440 invests your money in a high-tech facility, not spa treatments.
Sweat440 invests your money in useful tools like scheduling apps and demos.
Sweat440 invests your money in multiple locations in the city for convenience.
Sweat440 invests your money in classes every 10 minutes so everyone has priority.
Sweat440 invests your money in personal trainers in each class, at no additional cost.