The Affordable Gym Near Me With Luxury Perks: Sweat440
​When you join a gym, you have certain expectations. You expect to lose weight, to tone up, or to improve your athletic ability. But you don't expect it to break the bank. The problem is, some gyms meet the price expectation, but fall short in other categories. Gyms like Crunch, Anytime Fitness, and Planet Fitness don't blow your budget, but they also don't blow you away with services or amenities. 
Fortunately, Sweat440 fills that void. With locations in New York, Florida, and Canada, Sweat440 is the affordable gym near me with all the luxury perks you deserve. You work hard in the gym. Choose the gym that rewards that work with fair pricing and an elevated fitness experience.
​How an Affordable Gym Near Me Provides a Luxury Experience 
Customized Schedules
When you join a gym, you expect to be able to exercise there. But many gyms have limited hours and classes. You often have to book classes months ahead. Some gyms offer classes at set times like Monday at 8:00. But Sweat440's classes repeat throughout the day and change every day, so you can come anytime. Our classes start every 10 minutes, so you can customize your fitness schedule. 
Personal Attention  
Personal training costs are quite high at some gyms, and some don't even offer the service. Sweat440 understands the importance of personalized plans, since our founders are trainers themselves. Personal attention means individual tactics that help you exceed your fitness goals. That's why Sweat440 includes personalized training for free in every class- a luxury perk at no additional fee.
Small Classes
Since our classes run every 10 minutes, they're never overcrowded. Enjoy the luxury of ample workout space, instead of waiting for machines at crowded gyms. Within each class, our instructors circulate to assist each person, customizing your experience. Rather than the general instruction most classes offer, our instructors adapt each exercise to meet individual abilities, limitations, and goals.
State-of-the-Art Equipment
Our gyms are equipped with the latest equipment like ski ergs, assault bikes, rowers, sleds, versa climbers, and kettlebells. Many affordable gyms only stock basic things like treadmills and free weights. But our gyms are packed with versatile equipment that keeps your workout from getting dull. Boredom and plateaus are never an issue with our range of dynamic options. 
Innovative Technology
Some gyms cut corners with technology and customer service to keep membership fees low. But Sweat440 utilizes innovative tools for user-friendly connectivity. Each of our exercise stations is equipped with a screen displaying an animated demonstration, so you know what to do at all times. We also use scheduling technology through our App to simplify booking classes. We even have a selfie station to capture your post-workout glow. At Sweat440, your fitness experience is low-cost but high-tech.
Individual Space
Some people love to socialize in the gym and we're big fans of community fitness. That's why we offer small group classes that encourage, inspire, and incentivize our members. But some people like to work out in peace. Our classes are designed with both styles in mind. Social members get amped with our upbeat music, friendly classmates, and high-fives after each station. Solo warriors enjoy how each station lasts 45 seconds, so you can move at your own pace. Animated demos assist those who want to Zen out and instructors interact with those who seek camaraderie. 
Fully Equipped Facilities
Some people plan their day around fitness, while others squeeze it in when they can. Our classes burn the maximum calories possible in just 40 minutes so you can always make time for fitness. Our gyms are equipped with luxury amenities like showers and locker rooms, so you can head the office, school carpool, or social engagements after your workout. With versatile classes and well-stocked facilities, Sweat440 is your one-stop-shop for affordable luxury fitness.
Why Sweat440 Thinks Luxury Fitness Should Be Affordable
There are several keys to getting fit, but the most important is consistency. No matter how hard you work, if you don't stick with it, you won't get results. So, achieving fitness means breaking down the barriers to consistency. Two of the primary barriers to consistency are cost and experience. Here's how Sweat440 breaks those barriers.
1. Affordability and Luxury Lead to Consistency
If your gym costs too much, you might not feel like it's worth the money. And when money's tight, people quit pricey gyms. Affordable gyms help you stay consistent with fitness regardless of finances. However, your gym experience is also instrumental in consistency. If classes are full, machines are taken, or equipment is lacking, you're likely to quit. Luxury amenities are key to keeping you engaged.
2. Consistency Leads to Fitness
Consistent exercise yields more substantial results than periodic fitness. It's also safer for your body. Frequent 40-minute workouts are less jarring than sporadic longer workouts. When you exercise consistently, you're also more likely to maintain healthy eating. The longer you stick with a fitness routine, the more ingrained it becomes in your habits, creating lasting fitness. 
3. So, Affordability and Luxury Lead to Fitness 
Since consistency on its own gets boring, you need additional incentives like affordability and perks to stay on track. Sweat440 offers versatile equipment, high tech connectivity, and a variety of classes to encourage consistency. Sweat440 provides affordable gyms with luxury perks so consistent fitness is possible for everyone. </p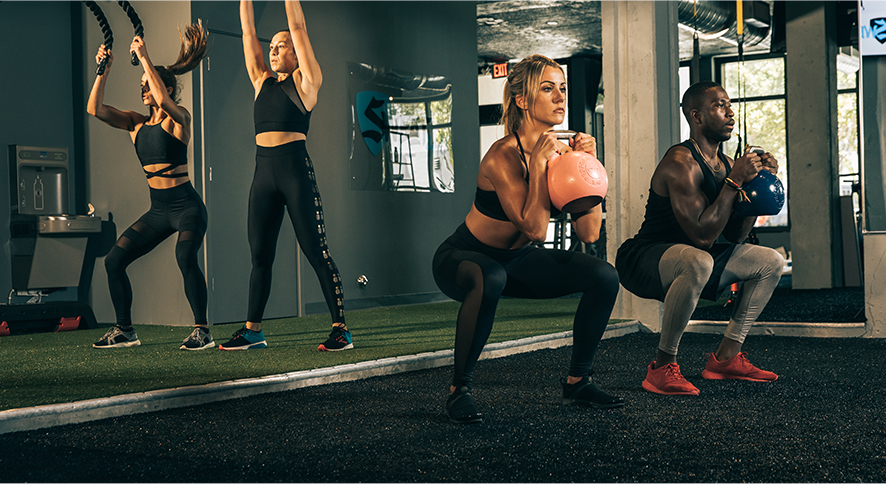 Choosing the Best Gym Near Me for Affordable Luxury
How Sweat440 Combines Affordability and Luxury
Sweat440 lets you customize a schedule that works for you.

Sweat440 offers frequent small classes so you aren't overcrowded.

Sweat440 provides personal instruction in each class at no extra fee.

Sweat440 uses the latest high-tech equipment for next-level fitness.

Sweat440 uses innovative technology to simplify connectivity.

Sweat440 caters to both introverts and extroverts through interval training.

Sweat440 provides luxuries like showers and locker rooms for convenience.
What Other Affordable Gyms Lack in Luxury
Some affordable gyms only have classes once a day or once a week.

Some affordable gyms are overcrowded with long waits for classes.

Some affordable gyms don't have personal trainers or charge extra for them.

Some affordable gyms have minimal, outdated equipment for inferior fitness.

Some affordable gyms cut corners on technology and service to save money.

Some affordable gyms don't take personal fitness preferences into account.

Some affordable gyms lack conveniences like showers and locker rooms.